Shielded SMD Power Inductor (PCS Series)
62B / 64B / 73 / 74 / 124 / 125 / 127 / 129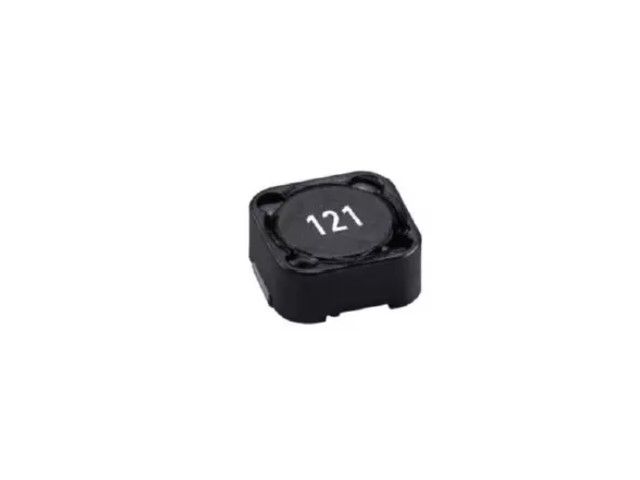 Shielded SMD Power Inductor - PCS Series
Files Download
Shielded SMD power inductor , compact , low profile with low DCR and large current , with magnetically shielded against rediation.
Features
High power, High saturation inductors.
With magnetically shielded against radiation.
Directly connected electrode on ferrite core.
Highly accurate dimensions for surface mounting.
Applications
Power Supply for VTRs.
LCD Televisions.
Personal Computers.
Handheld Communication Equipment.
DC/DC Converters, etc.
Inductance and Rated Current Ranges
- PCS62B: 1.5μH ~ 330μH, 3.50 ~ 0.19A
- PCS64B: 10μH ~ 1000μH, 1.35 ~ 0.14A
- PCS73: 1.0μH ~ 1000μH, 7.97 ~ 0.16A
- PCS74: 1.0μH ~ 1000μH, 8.0 ~ 0.18A
- PCS124: 1.5μH ~ 330μH, 8.75 ~ 0.5A
- PCS125: 1.3μH ~ 1000μH, 8.0 ~ 0.4A
- PCS127: 1.0μH ~ 1000μH, 10.0 ~ 0.55A
- PCS129: 1.0μH ~ 1000μH, 17.0 ~ 0.76A
- PCSH127: 2.2μH ~ 1000μH, 25.5 ~ 1.14A
- Test equipment:
• L: HP4284A or HP4285A LCR meter
• DCR: Milli-ohm meter
- Electrical specifications at 25°C
Characteristics
except PCSH127
- Rated DC Current: The DC current at which the inductance becomes 25% lower than its initial value or when Δt=40°C, whichever is lower. (Ta=25°C)
- Operating temperature range: -40 ~ 125°C
for PCSH127
- Rated DC Current: The DC current at which the inductance becomes 30% lower than its initial value. (Ta=25°C)
- Operating temperature range: -40 ~ 125°C
Product Identification
Standard Electrical Specifications
PCS62B Type(□:Tolerance)
| Part No. | L (μH) | Tolerance | Test Condition | RDC (Ω) max. | IDC (A) max. |
| --- | --- | --- | --- | --- | --- |
| PCS62B□T1R5 | 1.5 | M | 100KHz, 0.25V | 0.049 | 3.500 |
| PCS62B□T2R2 | 2.2 | M | 100KHz, 0.25V | 0.050 | 2.200 |
| PCS62B□T2R9 | 2.9 | M | 100KHz, 0.25V | 0.070 | 1.940 |
| PCS62B□T3R3 | 3.3 | M | 100KHz, 0.25V | 0.075 | 1.800 |
| PCS62B□T4R0 | 4.0 | M | 100KHz, 0.25V | 0.080 | 1.630 |
| PCS62B□T4R7 | 4.7 | M | 100KHz, 0.25V | 0.090 | 1.55 |
| PCS62B□T5R5 | 5.5 | M | 100KHz, 0.25V | 0.100 | 1.400 |
| PCS62B□T6R8 | 6.8 | M | 100KHz, 0.25V | 0100 | 1.300 |
| PCS62B□T100 | 10 | M | 1KHz, 0.25V | 0.150 | 1.100 |
| PCS62B□T120 | 12 | M | 1KHz, 0.25V | 0.200 | 1.000 |
| PCS62B□T150 | 15 | M | 1KHz, 0.25V | 0.230 | 0.900 |
| PCS62B□T180 | 18 | M | 1KHz, 0.25V | 0.270 | 0.800 |
| PCS62B□T220 | 22 | M | 1KHz, 0.25V | 0.340 | 0.740 |
| PCS62B□T270 | 27 | M | 1KHz, 0.25V | 0.380 | 0.660 |
| PCS62B□T330 | 33 | M | 1KHz, 0.25V | 0.450 | 0.590 |
| PCS62B□T390 | 39 | M | 1KHz, 0.25V | 0.490 | 0.540 |
| PCS62B□T470 | 47 | M | 1KHz, 0.25V | 0.690 | 0.500 |
| PCS62B□T560 | 56 | M | 1KHz, 0.25V | 0.780 | 0.460 |
| PCS62B□T680 | 68 | M | 1KHz, 0.25V | 1.070 | 0.420 |
| PCS62B□T820 | 82 | M | 1KHz, 0.25V | 1.210 | 0.380 |
| PCS62B□T101 | 100 | M | 1KHz, 0.25V | 1.390 | 0.340 |
| PCS62B□T121 | 120 | M | 1KHz, 0.25V | 1.900 | 0.310 |
| PCS62B□T151 | 150 | M | 1KHz, 0.25V | 2.180 | 0.280 |
| PCS62B□T181 | 180 | M | 1KHz, 0.25V | 2.770 | 0.260 |
| PCS62B□T221 | 220 | M | 1KHz, 0.25V | 3.120 | 0.230 |
| PCS62B□T271 | 270 | M | 1KHz, 0.25V | 4.380 | 0.220 |
| PCS62B□T331 | 330 | M | 1KHz, 0.25V | 4.940 | 0.190 |
PCS64B Type(□:Tolerance)
| Part No. | L (μH) | Tolerance | Test Condition | RDC (Ω) max. | IDC (A) max. |
| --- | --- | --- | --- | --- | --- |
| PCS64B□T100 | 10 | M | 1KHz, 0.25V | 0.120 | 1.350 |
| PCS64B□T120 | 12 | M | 1KHz, 0.25V | 0.130 | 1.220 |
| PCS64B□T150 | 15 | M | 1KHz, 0.25V | 0.180 | 1.110 |
| PCS64B□T180 | 18 | M | 1KHz, 0.25V | 0.240 | 1.020 |
| PCS64B□T220 | 22 | M | 1KHz, 0.25V | 0.270 | 0.910 |
| PCS64B□T270 | 27 | M | 1KHz, 0.25V | 0.300 | 0.820 |
| PCS64B□T330 | 33 | M | 1KHz, 0.25V | 0.330 | 0.740 |
| PCS64B□T390 | 39 | M | 1KHz, 0.25V | 0.370 | 0.690 |
| PCS64B□T470 | 47 | M | 1KHz, 0.25V | 0.520 | 0.620 |
| PCS64B□T560 | 56 | M | 1KHz, 0.25V | 0.560 | 0.580 |
| PCS64B□T680 | 68 | M | 1KHz, 0.25V | 0.630 | 0.510 |
| PCS64B□T820 | 82 | M | 1KHz, 0.25V | 0.710 | 0.460 |
| PCS64B□T101 | 100 | M | 1KHz, 0.25V | 1.030 | 0.420 |
| PCS64B□T121 | 120 | M | 1KHz, 0.25V | 1.150 | 0.380 |
| PCS64B□T151 | 150 | M | 1KHz, 0.25V | 1.680 | 0.350 |
| PCS64B□T181 | 180 | M | 1KHz, 0.25V | 1.870 | 0.320 |
| PCS64B□T221 | 220 | M | 1KHz, 0.25V | 2.080 | 0.290 |
| PCS64B□T271 | 270 | M | 1KHz, 0.25V | 2.370 | 0.260 |
| PCS64B□T331 | 330 | M | 1KHz, 0.25V | 2.670 | 0.230 |
| PCS64B□T391 | 390 | M | 1KHz, 0.25V | 2.940 | 0.220 |
| PCS64B□T471 | 470 | M | 1KHz, 0.25V | 3.930 | 0.200 |
| PCS64B□T561 | 560 | M | 1KHz, 0.25V | 5.430 | 0.180 |
| PCS64B□T681 | 680 | M | 1KHz, 0.25V | 7.320 | 0.170 |
| PCS64B□T821 | 820 | M | 1KHz, 0.25V | 8.240 | 0.150 |
| PCS64B□T102 | 1000 | M | 1KHz, 0.25V | 9.260 | 0.140 |
PCS73 Type(□:Tolerance)
| Part No. | L (μH) | Tolerance | Test Condition | RDC (Ω) max. | IDC (A) max. |
| --- | --- | --- | --- | --- | --- |
| PCS73□T1R0 | 1.0 | M | 1KHz, 0.25V | 0.016 | 7.970 |
| PCS73□T1R5 | 1.5 | M | 1KHz, 0.25V | 0.023 | 5.500 |
| PCS73□T2R2 | 2.2 | M | 1KHz, 0.25V | 0.027 | 4.500 |
| PCS73□T3R3 | 3.3 | M | 1KHz, 0.25V | 0.031 | 4.000 |
| PCS73□T3R9 | 3.9 | M | 1KHz, 0.25V | 0.041 | 3.800 |
| PCS73□T4R7 | 4.7 | M | 1KHz, 0.25V | 0.048 | 3.500 |
| PCS73□T5R6 | 5.6 | M | 1KHz, 0.25V | 0.056 | 3.000 |
| PCS73□T6R8 | 6.8 | M | 1KHz, 0.25V | 0.062 | 2.000 |
| PCS73□T100 | 10 | M | 1KHz, 0.25V | 0.072 | 1.680 |
| PCS73□T120 | 12 | M | 1KHz, 0.25V | 0.098 | 1.520 |
| PCS73□T150 | 15 | M | 1KHz, 0.25V | 0.130 | 1.330 |
| PCS73□T180 | 18 | M | 1KHz, 0.25V | 0.140 | 1.200 |
| PCS73□T220 | 22 | M | 1KHz, 0.25V | 0.190 | 1.070 |
| PCS73□T220-1 | 22 | M | 1KHz, 0.25V | 0.190 | 1.380 |
| PCS73□T270 | 27 | M | 1KHz, 0.25V | 0.210 | 0.960 |
| PCS73□T330 | 33 | M | 1KHz, 0.25V | 0.240 | 0.910 |
| PCS73□T390 | 39 | M | 1KHz, 0.25V | 0.320 | 0.770 |
| PCS73□T470 | 47 | M | 1KHz, 0.25V | 0.360 | 0.760 |
| PCS73□T560 | 56 | M | 1KHz, 0.25V | 0.470 | 0.680 |
| PCS73□T680 | 68 | M | 1KHz, 0.25V | 0.520 | 0.610 |
| PCS73□T820 | 82 | M | 1KHz, 0.25V | 0.690 | 0.570 |
| PCS73□T101 | 100 | M | 1KHz, 0.25V | 0.790 | 0.500 |
| PCS73□T121 | 120 | M | 1KHz, 0.25V | 0.890 | 0.490 |
| PCS73□T151 | 150 | M | 1KHz, 0.25V | 1.270 | 0.430 |
| PCS73□T181 | 180 | M | 1KHz, 0.25V | 1.450 | 0.390 |
| PCS73□T221 | 220 | M | 1KHz, 0.25V | 1.650 | 0.350 |
| PCS73□T221-1 | 220 | M | 1KHz, 1V | 1.320 | 0.420 |
| PCS73□T271 | 270 | M | 1KHz, 0.25V | 2.310 | 0.320 |
| PCS73□T331 | 330 | M | 1KHz, 0.25V | 2.620 | 0.280 |
| PCS73□T391 | 390 | M | 1KHz, 0.25V | 2.940 | 0.260 |
| PCS73□T471 | 470 | M | 1KHz, 0.25V | 4.180 | 0.240 |
| PCS73□T471-1 | 470 | M | 100KHz, 0.25V | 2.850 | 0.370 |
| PCS73□T561 | 560 | M | 1KHz, 0.25V | 4.670 | 0.220 |
| PCS73□T681 | 680 | M | 1KHz, 0.25V | 5.730 | 0.190 |
| PCS73□T821 | 820 | M | 1KHz, 0.25V | 6.540 | 0.180 |
| PCS73□T102 | 1000 | M | 1KHz, 0.25V | 9.440 | 0.160 |
| PCS73□T102-1 | 1000 | M | 100KHz, 0.25V | 4.690 | 0.250 |
Note:PCS73□T471-1 / PCS73□T102-1 The DC current at which the inductance becomes 30% lower than its initial value
PCS74 Type(□:Tolerance)
| Part No. | L (μH) | Tolerance | Test Condition | RDC (Ω) max. | IDC (A) max. |
| --- | --- | --- | --- | --- | --- |
| PCS74□T1R0 | 1.0 | M | 1KHz, 0.25V | 0.020 | 8.000 |
| PCS74□T1R5 | 1.5 | M | 1KHz, 0.25V | 0.018 | 7.000 |
| PCS74□T2R2 | 2.2 | M | 1KHz, 0.25V | 0.028 | 6.000 |
| PCS74□T3R3 | 3.3 | M | 1KHz, 0.25V | 0.032 | 4.800 |
| PCS74□T3R9 | 3.9 | M | 1KHz, 0.25V | 0.035 | 4.400 |
| PCS74□T4R7 | 4.7 | M | 1KHz, 0.25V | 0.038 | 4.000 |
| PCS74□T5R6 | 5.6 | M | 1KHz, 0.25V | 0.040 | 3.500 |
| PCS74□T6R8 | 6.8 | M | 1KHz, 0.25V | 0.045 | 3.000 |
| PCS74□T100 | 10 | M | 1KHz, 0.25V | 0.049 | 1.840 |
| PCS74□T120 | 12 | M | 1KHz, 0.25V | 0.058 | 1.710 |
| PCS74□T150 | 15 | M | 1KHz, 0.25V | 0.081 | 1.470 |
| PCS74□T180 | 18 | M | 1KHz, 0.25V | 0.091 | 1.310 |
| PCS74□T220 | 22 | M | 1KHz, 0.25V | 0.110 | 1.230 |
| PCS74□T270 | 27 | M | 1KHz, 0.25V | 0.150 | 1.120 |
| PCS74□T330 | 33 | M | 1KHz, 0.25V | 0.170 | 0.960 |
| PCS74□T330-2 | 33 | M | 1KHz, 0.25V | 0.150±30% | 0.960 |
| PCS74□T390 | 39 | M | 1KHz, 0.25V | 0.230 | 0.910 |
| PCS74□T470 | 47 | M | 1KHz, 0.25V | 0.260 | 0.880 |
| PCS74□T560 | 56 | M | 1KHz, 0.25V | 0.350 | 0.750 |
| PCS74□T680 | 68 | M | 1KHz, 0.25V | 0.380 | 0.690 |
| PCS74□T820 | 82 | M | 1KHz, 0.25V | 0.430 | 0.610 |
| PCS74□T101 | 100 | M | 1KHz, 0.25V | 0.610 | 0.600 |
| PCS74□T121 | 120 | M | 1KHz, 0.25V | 0.660 | 0.520 |
| PCS74□T151 | 150 | M | 1KHz, 0.25V | 0.880 | 0.460 |
| PCS74□T151-1 | 150 | M | 100KHz, 0.25V | 0.880 | 0.810 |
| PCS74□T181 | 180 | M | 1KHz, 0.25V | 0.980 | 0.420 |
| PCS74□T221 | 220 | M | 1KHz, 0.25V | 1.170 | 0.360 |
| PCS74□T271 | 270 | M | 1KHz, 0.25V | 1.640 | 0.340 |
| PCS74□T331 | 330 | M | 1KHz, 0.25V | 1.860 | 0.320 |
| PCS74□T331-1 | 330 | M | 1KHz, 0.25V | 1.860 | 0.450 |
| PCS74□T391 | 390 | M | 1KHz, 0.25V | 2.850 | 0.290 |
| PCS74□T471 | 470 | M | 1KHz, 0.25V | 3.010 | 0.260 |
| PCS74□T561 | 560 | M | 1KHz, 0.25V | 3.620 | 0.230 |
| PCS74□T681 | 680 | M | 1KHz, 0.25V | 4.630 | 0.220 |
| PCS74□T821 | 820 | M | 1KHz, 0.25V | 5.200 | 0.200 |
| PCS74□T102 | 1000 | M | 1KHz, 0.25V | 6.000 | 0.180 |
Note:PCS74□T151-1 The DC current at which the inductance becomes 30% lower than its initial value
PCS124 Type(□:Tolerance)
| Part No. | L (μH) | Tolerance | Test Condition | RDC (Ω) max. | IDC (A) max. |
| --- | --- | --- | --- | --- | --- |
| PCS124□T1R5 | 1.5 | M | 100KHz, 0.25V | 0.008 | 8.75 |
| PCS124□T2R5 | 2.5 | M | 100KHz, 0.25V | 0.013 | 8.00 |
| PCS124□T3R3 | 3.3 | M | 100KHz, 0.25V | 0.015 | 6.50 |
| PCS124□T3R9 | 3.9 | M | 100KHz, 0.25V | 0.015 | 6.50 |
| PCS124□T4R7 | 4.7 | M | 100KHz, 0.25V | 0.018 | 5.70 |
| PCS124□T6R8 | 6.8 | M | 100KHz, 0.25V | 0.023 | 4.90 |
| PCS124□T8R2 | 8.2 | M | 100KHz, 0.25V | 0.026 | 4.60 |
| PCS124□T100 | 10 | M | 100KHz, 0.25V | 0.028 | 4.50 |
| PCS124□T120 | 12 | M | 100KHz, 0.25V | 0.038 | 4.00 |
| PCS124□T150 | 15 | M | 100KHz, 0.25V | 0.050 | 3.20 |
| PCS124□T180 | 18 | M | 100KHz, 0.25V | 0.057 | 3.10 |
| PCS124□T220 | 22 | M | 100KHz, 0.25V | 0.066 | 2.90 |
| PCS124□T270 | 27 | M | 100KHz, 0.25V | 0.080 | 2.80 |
| PCS124□T330 | 33 | M | 100KHz, 0.25V | 0.097 | 2.70 |
| PCS124□T390 | 39 | M | 100KHz, 0.25V | 0.132 | 2.10 |
| PCS124□T470 | 47 | M | 100KHz, 0.25V | 0.150 | 1.90 |
| PCS124□T560 | 56 | M | 100KHz, 0.25V | 0.190 | 1.80 |
| PCS124□T680 | 68 | M | 100KHz, 0.25V | 0.220 | 1.50 |
| PCS124□T820 | 82 | M | 100KHz, 0.25V | 0.260 | 1.30 |
| PCS124□T101 | 100 | M | 100KHz, 0.25V | 0.308 | 1.20 |
| PCS124□T121 | 120 | M | 100KHz, 0.25V | 0.380 | 1.10 |
| PCS124□T151 | 150 | M | 100KHz, 0.25V | 0.530 | 0.95 |
| PCS124□T181 | 180 | M | 100KHz, 0.25V | 0.620 | 0.85 |
| PCS124□T221 | 220 | M | 100KHz, 0.25V | 0.700 | 0.80 |
| PCS124□T271 | 270 | M | 100KHz, 0.25V | 0.876 | 0.60 |
| PCS124□T331 | 330 | M | 100KHz, 0.25V | 0.990 | 0.50 |
PCS125 Type(□:Tolerance)
| Part No. | L (μH) | Tolerance | Test Condition | RDC (Ω) max. | IDC (A) max. |
| --- | --- | --- | --- | --- | --- |
| PCS125□T1R3 | 1.3 | M | 100KHz, 0.25V | 0.012 | 8.00 |
| PCS125□T2R1 | 2.1 | M | 100KHz, 0.25V | 0.014 | 7.00 |
| PCS125□T2R2 | 2.2 | M | 100KHz, 0.25V | 0.014 | 7.00 |
| PCS125□T3R1 | 3.1 | M | 100KHz, 0.25V | 0.017 | 6.00 |
| PCS125□T3R3 | 3.3 | M | 100KHz, 0.25V | 0.014 | 6.75 |
| PCS125□T4R4 | 4.4 | M | 100KHz, 0.25V | 0.020 | 5.00 |
| PCS125□T4R7 | 4.7 | M | 100KHz, 0.25V | 0.018 | 6.20 |
| PCS125□T5R8 | 5.8 | M | 100KHz, 0.25V | 0.021 | 4.40 |
| PCS125□T6R8 | 6.8 | M | 100KHz, 0.25V | 0.023 | 5.90 |
| PCS125□T7R5 | 7.5 | M | 100KHz, 0.25V | 0.024 | 4.20 |
| PCS125□T8R2 | 8.2 | M | 100KHz, 0.25V | 0.024 | 4.10 |
| PCS125□T100 | 10 | M | 1KHz, 0.25V | 0.025 | 4.00 |
| PCS125□T120 | 12 | M | 1KHz, 0.25V | 0.027 | 3.50 |
| PCS125□T150 | 15 | M | 1KHz, 0.25V | 0.030 | 3.30 |
| PCS125□T180 | 18 | M | 1KHz, 0.25V | 0.034 | 3.00 |
| PCS125□T220 | 22 | M | 1KHz, 0.25V | 0.036 | 2.80 |
| PCS125□T270 | 27 | M | 1KHz, 0.25V | 0.051 | 2.30 |
| PCS125□T330 | 33 | M | 1KHz, 0.25V | 0.057 | 2.10 |
| PCS125□T390 | 39 | M | 1KHz, 0.25V | 0.068 | 2.00 |
| PCS125□T470 | 47 | M | 1KHz, 0.25V | 0.075 | 1.80 |
| PCS125□T560 | 56 | M | 1KHz, 0.25V | 0.110 | 1.70 |
| PCS125□T680 | 68 | M | 1KHz, 0.25V | 0.120 | 1.50 |
| PCS125□T680-1 | 68 | M | 1KHz, 0.25V | 0.110±30% | 1.50 |
| PCS125□T820 | 82 | M | 1KHz, 0.25V | 0.140 | 1.40 |
| PCS125□T101 | 100 | M | 1KHz, 0.25V | 0.160 | 1.30 |
| PCS125□T121 | 120 | M | 1KHz, 0.25V | 0.170 | 1.10 |
| PCS125□T151 | 150 | M | 1KHz, 0.25V | 0.230 | 1.00 |
| PCS125□T181 | 180 | M | 1KHz, 0.25V | 0.290 | 0.90 |
| PCS125□T221 | 220 | M | 1KHz, 0.25V | 0.400 | 0.80 |
| PCS125□T271 | 270 | M | 1KHz, 0.25V | 0.460 | 0.75 |
| PCS125□T331 | 330 | M | 1KHz, 0.25V | 0.510 | 0.68 |
| PCS125□T391 | 390 | M | 1KHz, 0.25V | 0.690 | 0.65 |
| PCS125□T471 | 470 | M | 1KHz, 0.25V | 0.770 | 0.58 |
| PCS125□T561 | 560 | M | 1KHz, 0.25V | 0.860 | 0.54 |
| PCS125□T681 | 680 | M | 1KHz, 0.25V | 1.200 | 0.48 |
| PCS125□T821 | 820 | M | 1KHz, 0.25V | 1.340 | 0.43 |
| PCS125□T102 | 1000 | M | 1KHz, 0.25V | 1.530 | 0.40 |
Note:PCS125□T680-1 The DC current at which the inductance becomes 35% lower than its initial value
PCS127 Type(□:Tolerance)
| Part No. | L (μH) | Tolerance | Test Condition | RDC (Ω) max. | IDC (A) max. |
| --- | --- | --- | --- | --- | --- |
| PCS127□T1R0 | 1.0 | M | 100KHz, 0.25V | 0.007 | 10.00 |
| PCS127□T1R2 | 1.2 | M | 100KHz, 0.25V | 0.007 | 9.80 |
| PCS127□T1R8 | 1.8 | M | 100KHz, 0.25V | 0.011 | 8.50 |
| PCS127□T2R2 | 2.2 | M | 100KHz, 0.25V | 0.010 | 8.50 |
| PCS127□T2R4 | 2.4 | M | 100KHz, 0.25V | 0.012 | 8.00 |
| PCS127□T2R7 | 2.7 | M | 100KHz, 0.25V | 0.012 | 8.00 |
| PCS127□T3R3 | 3.3 | M | 100KHz, 0.25V | 0.013 | 7.80 |
| PCS127□T3R5 | 3.5 | M | 100KHz, 0.25V | 0.014 | 7.50 |
| PCS127□T4R7 | 4.7 | M | 100KHz, 0.25V | 0.016 | 6.80 |
| PCS127□T5R6 | 5.6 | M | 100KHz, 0.25V | 0.014 | 6.70 |
| PCS127□T6R1 | 6.1 | M | 100KHz, 0.25V | 0.018 | 6.60 |
| PCS127□T6R8 | 6.8 | M | 100KHz, 0.25V | 0.014 | 6.40 |
| PCS127□T7R6 | 7.6 | M | 100KHz, 0.25V | 0.020 | 5.90 |
| PCS127□T8R2 | 8.2 | M | 100KHz, 0.25V | 0.016 | 6.32 |
| PCS127□T100 | 10 | M | 1KHz, 0.25V | 0.022 | 5.40 |
| PCS127□T120 | 12 | M | 1KHz, 0.25V | 0.024 | 4.90 |
| PCS127□T150 | 15 | M | 1KHz, 0.25V | 0.027 | 4.50 |
| PCS127□T180 | 18 | M | 1KHz, 0.25V | 0.039 | 3.90 |
| PCS127□T220 | 22 | M | 1KHz, 0.25V | 0.043 | 3.60 |
| PCS127□T270 | 27 | M | 1KHz, 0.25V | 0.046 | 3.40 |
| PCS127□T330 | 33 | M | 1KHz, 0.25V | 0.065 | 3.00 |
| PCS127□T390 | 39 | M | 1KHz, 0.25V | 0.073 | 2.75 |
| PCS127□T470 | 47 | M | 1KHz, 0.25V | 0.100 | 2.50 |
| PCS127□T560 | 56 | M | 1KHz, 0.25V | 0.110 | 2.35 |
| PCS127□T560-1 | 56 | M | 1KHz, 0.25V | 0.110 | 2.90 |
| PCS127□T680 | 68 | M | 1KHz, 0.25V | 0.140 | 2.10 |
| PCS127□T820 | 82 | M | 1KHz, 0.25V | 0.160 | 1.95 |
| PCS127□T101 | 100 | M | 1KHz, 0.25V | 0.220 | 1.70 |
| PCS127□T101-1 | 100 | M | 1KHz, 1V | 0.150 | 2.00 |
| PCS127□T121 | 120 | M | 1KHz, 0.25V | 0.250 | 1.60 |
| PCS127□T151 | 150 | M | 1KHz, 0.25V | 0.280 | 1.42 |
| PCS127□T151-1 | 150 | M | 1KHz, 0.25V | 0.227 | 1.80 |
| PCS127□T181 | 180 | M | 1KHz, 0.25V | 0.350 | 1.30 |
| PCS127□T221 | 220 | M | 1KHz, 0.25V | 0.390 | 1.16 |
| PCS127□T271 | 270 | M | 1KHz, 0.25V | 0.560 | 1.06 |
| PCS127□T331 | 330 | M | 1KHz, 0.25V | 0.640 | 0.95 |
| PCS127□T391 | 390 | M | 1KHz, 0.25V | 0.700 | 0.88 |
| PCS127□T471 | 470 | M | 1KHz, 0.25V | 0.980 | 0.79 |
| PCS127□T561 | 560 | M | 1KHz, 0.25V | 1.070 | 0.73 |
| PCS127□T681 | 680 | M | 1KHz, 0.25V | 1.460 | 0.67 |
| PCS127□T821 | 820 | M | 1KHz, 0.25V | 1.640 | 0.60 |
| PCS127□T102 | 1000 | M | 1KHz, 0.25V | 1.820 | 0.55 |
| PCS127□T222-1 | 2200 | M | 100KHz, 0.25V | 3.250 | 0.65 |
Note:PCS127□T222-1 The DC current at which the inductance becomes 30% lower than its initial value
PCS129 Type(□:Tolerance)
| Part No. | L (μH) | Tolerance | Test Condition | RDC (Ω) max. | IDC (A) max. |
| --- | --- | --- | --- | --- | --- |
| PCS129□T1R0 | 1.0 | M | 100KHz, 0.25V | 0.007 | 17.00 |
| PCS129□T1R5 | 1.5 | M | 100KHz, 0.25V | 0.005 | 16.00 |
| PCS129□T2R4 | 2.4 | M | 100KHz, 0.25V | 0.006 | 15.00 |
| PCS129□T3R3 | 3.3 | M | 100KHz, 0.25V | 0.009 | 14.00 |
| PCS129□T3R5 | 3.5 | M | 100KHz, 0.25V | 0.009 | 14.00 |
| PCS129□T6R8 | 6.8 | M | 100KHz, 0.25V | 0.013 | 10.00 |
| PCS129□T8R2 | 8.2 | M | 100KHz, 0.25V | 0.015 | 8.20 |
| PCS129□T100 | 10 | M | 1KHz, 0.25V | 0.018 | 7.50 |
| PCS129□T120 | 12 | M | 1KHz, 0.25V | 0.019 | 7.00 |
| PCS129□T150 | 15 | M | 1KHz, 0.25V | 0.024 | 6.00 |
| PCS129□T180 | 18 | M | 1KHz, 0.25V | 0.031 | 5.50 |
| PCS129□T220 | 22 | M | 1KHz, 0.25V | 0.039 | 5.00 |
| PCS129□T270 | 27 | M | 1KHz, 0.25V | 0.045 | 4.50 |
| PCS129□T330 | 33 | M | 1KHz, 0.25V | 0.050 | 4.00 |
| PCS129□T390 | 39 | M | 1KHz, 0.25V | 0.059 | 3.80 |
| PCS129□T470 | 47 | M | 1KHz, 0.25V | 0.069 | 3.50 |
| PCS129□T560 | 56 | M | 1KHz, 0.25V | 0.079 | 3.20 |
| PCS129□T680 | 68 | M | 1KHz, 0.25V | 0.088 | 3.00 |
| PCS129□T820 | 82 | M | 1KHz, 0.25V | 0.110 | 2.60 |
| PCS129□T101 | 100 | M | 1KHz, 0.25V | 0.140 | 2.20 |
| PCS129□T121 | 120 | M | 1KHz, 0.25V | 0.160 | 2.00 |
| PCS129□T151 | 150 | M | 1KHz, 0.25V | 0.200 | 1.80 |
| PCS129□T181 | 180 | M | 1KHz, 0.25V | 0.270 | 1.60 |
| PCS129□T221 | 220 | M | 1KHz, 0.25V | 0.300 | 1.50 |
| PCS129□T271 | 270 | M | 1KHz, 0.25V | 0.400 | 1.30 |
| PCS129□T331 | 330 | M | 1KHz, 0.25V | 0.450 | 1.20 |
| PCS129□T391 | 390 | M | 1KHz, 0.25V | 0.550 | 1.10 |
| PCS129□T471 | 470 | M | 1KHz, 0.25V | 0.600 | 1.00 |
| PCS129□T561 | 560 | M | 1KHz, 0.25V | 0.700 | 0.90 |
| PCS129□T681 | 680 | M | 1KHz, 0.25V | 0.840 | 0.82 |
| PCS129□T821 | 820 | M | 1KHz, 0.25V | 1.060 | 0.80 |
| PCS129□T102 | 1000 | M | 1KHz, 0.25V | 1.270 | 0.76 |
Files Download

RoHS Report